Digital Media Expertise | 100% Finance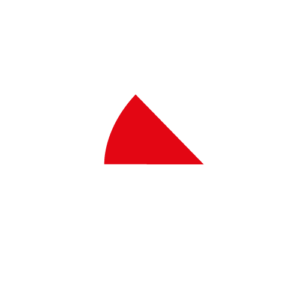 We highlight for you key elements that would otherwise remain invisible. About Us
Visual Capital Markets SA is a fintech company specializing in the analysis and distribution of data and financial information through innovative tools.
The company was founded in march 2018 and is based in Geneva (Switzerland).
At the crossroads of financial media and new technologies, the company provides its clients with presentation tools that combine technical performance and aesthetics.
Visual Capital Markets is positioned on the market for small and medium-sized financial players (Wealth and Asset Management boutiques, Family Offices, IAM…), to which we bring functionalities previously reserved for larger structures, such as fund centers or market insights apps, at affordable costs.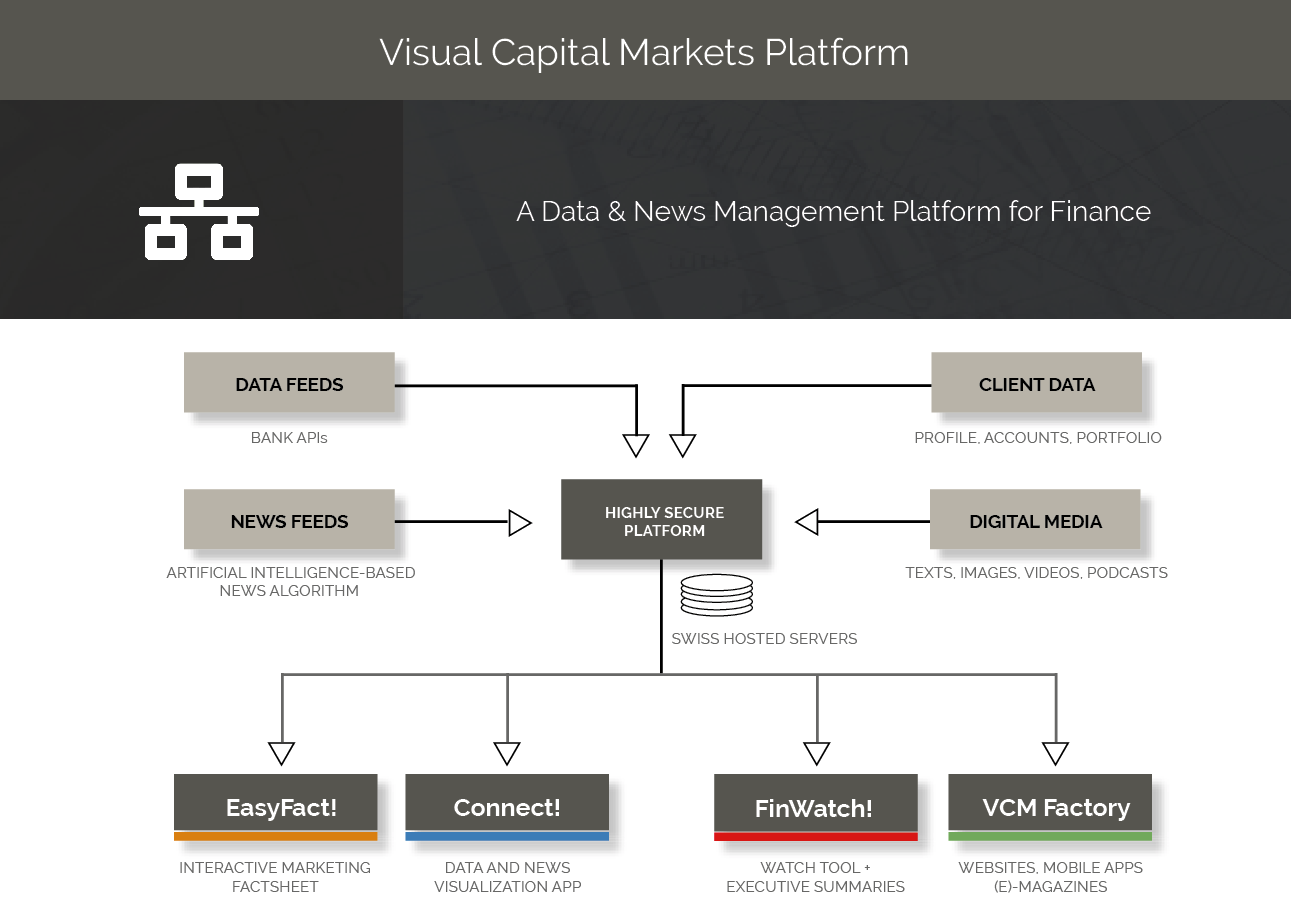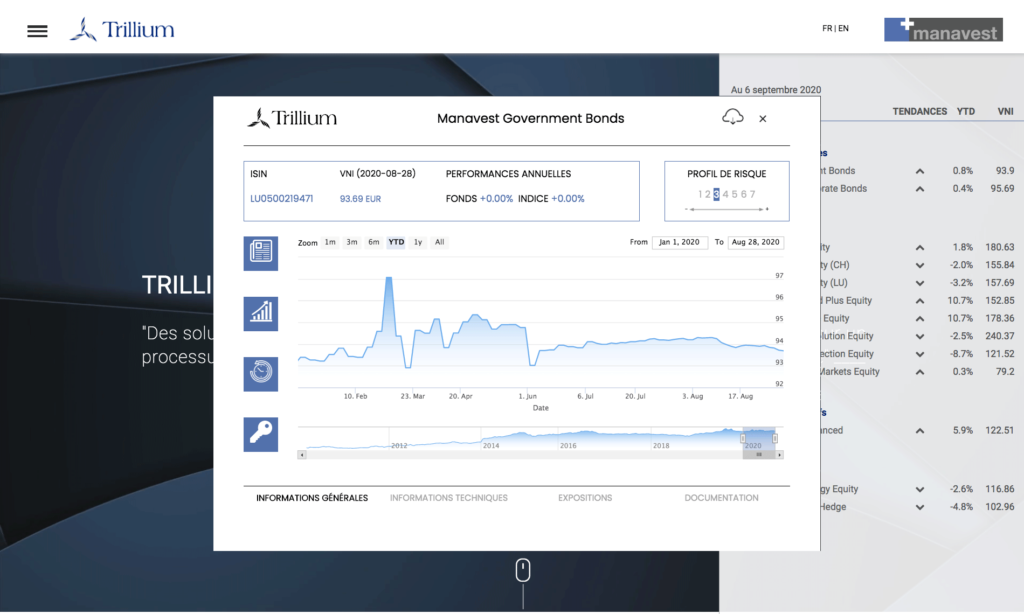 Easyfact! is an interactive marketing factsheet that allows Investment Companies to demonstrate funds performances and publish factsheets with automatic updates.
Fully customizable to your company's products and your visual identity, the app is feeded dayly through highly secured connections.
Information displayed include :
– Objectives and strategies,
– Performance,
– Historical track record,
– Statistics,
– Exposures, …
Easyfact! is available :
– as an add-on to your website for display on desktops or laptops.
– as a webapp or a native app for mobile devices.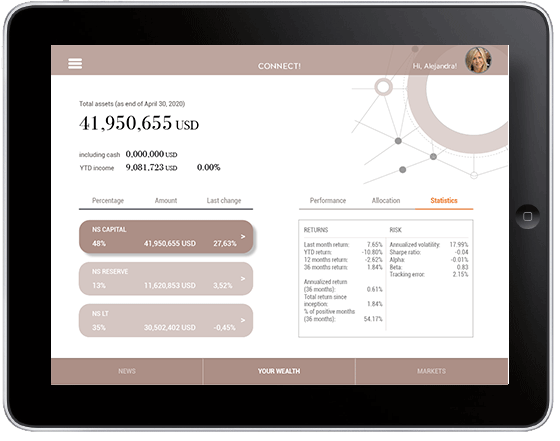 Connect! is a powerful data and news visualization app for Independent Asset Managers & Family Offices' clients to continuously monitor their assets.
Included features are :
– Accounts Aggregation
– Asset Allocation
– Portfolio Newswire
– Watch Tool
– Messaging
Fully customizable to your company's products and visual identity, Connect! is available for mobile devices and includes a webviewer display for desktops or laptops.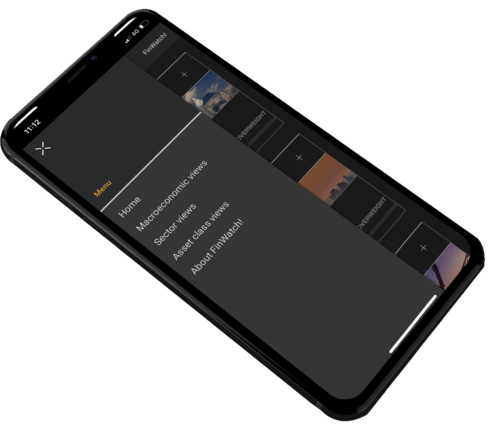 FinWatch! is a marketing watch tool for Financial Companies which include executive summaries edited by our team of financial Journalists and based on major global operators views.
FinWatch! analyzes financial market trends through a geographical and a sector prisms. It also reviews the different asset classes.
This information is pushed to your clients' mobile devices through a fully customized webapp or a native app (depending of the distribution channel).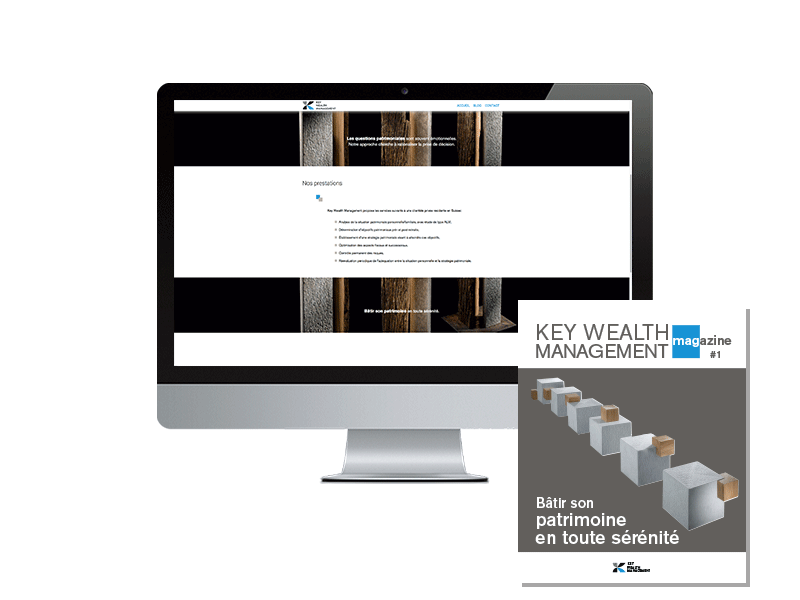 Visual Capital Markets also develops BtoB and BtoC interactive tools with high added value for the Finance industry.
These developments, based on the most recent technologies, are fully customizable, delivering to customers top-of-the-range products.
Our websites, mobile apps and e-magazines offer a particularly rich user experience. We publish high quality corporate print magazines which will give your company an image that will be appreciated by your clients and business partners.
Last but not least, we take care of your community management to reinforce your presence on social networks and ensure a coherent communication through your digital tools.
VISUAL CAPITAL MARKETS SA
Boulevard Georges Favon 43
1204 Geneva
Switzerland
+41 22 319 21 11
Our email: contact(at)visualcapitalmarkets.com